Statistic:
pages of Vacuum Music are interesting for visitors today, and pages already have been interesting for visitors since April, 2001
Singing Vacuum Fans Show




Thank you all, who took part in the Singing Fans Show and voted for the best song and voice!
We have 3 winners: Chris Schell (best song), Anonymous (best voice) and Illuminati (2nd place in both polls), who will get their prizes as soon as possible :). Congratulations!
Also for your comments here and to email, we have another winner Valenok (3rd place in Fans voting & the best creative work prize for Synth Lullaby)



Download the songs from singing Vacuum fans :)

First of all! What a nice idea Nika had when she started this! It's soooo flattering and nice to hear these recordings! What can I say? Vacuum-people are talented!!! Love You all! Thank You! I made some comments!

with love,
Mattias




Illuminati - Starting where the story ended/Tonnes Of Attraction
Well, this is a very important song to me. It was written during a special time in my life. It's a difficult song to sing due to the big jumps in the vocal-line. It's great to hear it in this Vince Clark -ish version;-)
Anonymous no1 - Starting where the story ended/Illuminati/Atlas Shrugged/Icaros/Let the mountain...
Now, here's some versions with a lot of passion in it. I can really hear that You are into these songs. That's a nice warm feeling! Great vocals!!! You must hae been singing for a long time. Maybe even professionally? Very, very nice!
Aniv - Nuclear India/Tears Of A Nation
Really, really serious versions! You got the message that's for sure! Great to hear Nuclear India. I always loved to sing that song. It's also very hard to sing! You've put lots of love into this!!!
Satellite - Le culture de la nuit
Hehehe! In french! That's great. That song always had a small french feel to it! Lovely, just lovely!
Chris Schell - Let the mountain...
Really nice synth-poppy version!!! Love the changes after the chorus. Interesting!!!! A little ravy as well! Well done! Nice girl backingvocals. Bring the home to seeeee. That's the best part. Kraftwerk -ish!
Sid Saiver - Starting where the story ended
Very synth! Some really low vocals there! Siberian basses!;-) Love the electronica. It's sort of stiff in a good way. Very creative!
Valenok - Satyricon, Synth Lullaby
Very spiritual. Has a nice churchy touch to it. Nice vocals. Lots of heart. Vocals are to me all about heart and here it is! Also nice to hear a song I haven't listened to in a long time. Lots of memories comes up! The lullaby. Love it. Very creative. I did a version similar to this one but with acoustic guitar live once. You are talented Valenok! I got goosebumps! I feel that you have the music in Your heart.

Buy HEARTBOX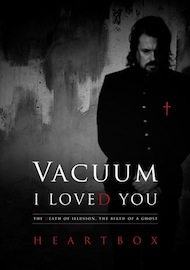 Download
I LOVED YOU - EP