VacuumV!sion » THE MMAD CATZ?!!
English: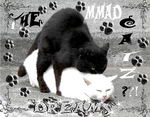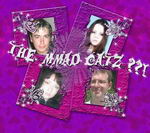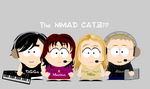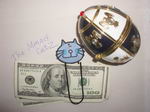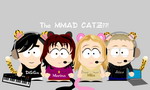 THE MMAD CATZ??! are:
The Kitty Mila "Pink Panther" – lead vocals, nerves.
The Kitty Marina "Sea Puma" – lead vocals, nerves.
The Cat Alex "Cheetah" – vocals, ideas.
The Cat DiGGa "Tiger" – computers, instruments.

"Preview (Dreams mix)"
Original music and lyrics by Wollbeck/Lindblom "Preview" b-side from "Six Billion Voices" single, Vacuum © 2006.
Additional music and lyrics by Bogdanov/Skorohod/Morskaya
Programming, arrangement, mixing and mastering by DiGGa.
Producing by Alex.
Design of a cover by Mila.
Design and drawing by Nika
Design of Myspace page – www.myspace.com/mmadcatz by Pink Panther&Sea Puma

"Preview (Heretical Opinion by Scaly Whale)"
Remix and additional production by THE MMAD CATZ??! and Pavel Doronin

THE MMAD CATZ??! about themselves:
Mila: "The Power and the magic of the project. Charming, emotional. talented and charismatic star as well"
Marina: "The source of inspiration for ideas of the project. She can be passionate and incoercible, also quiet and tender, as well as her elements - the Sea"
Alex: «The force-majeur of the project. A-side: Vigorous, full of ideas, romantic. B-side: Excentric, artful, lazy.»
DiGGa: "Probably, the best arranger in the world. Extraordinary, sympathetic, kind, sociable. The expert!"

THE MMAD CATZ??! would like to thank: Vacuum for their music and inspiration; Nika (www.vacuum-music.com), Alex Gayduk and Sergey Vorontsov for their invaluable and unforgettable Help; our keeper-angels for saving our lives and our souls; Blanca for her support and giving to us belief in the future; Princess Svetlana(f/c Evolution) for her cosmic friendship; and all our listeners. God knows their names and blessed their!
THE MMAD CATZ?!!
presents:
Back to VacuumV!sion