English: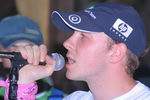 Hungry Cat aka Contact Lost (Evgeny) 22 years old, Moscow, Russia
"I like various artists and bands. Vacuum is one of my favourite ones. I started with the "Plutonium Cathedral". It's really impressive! I always liked singing and one time I began singing Vacuum-songs, while taking shower. My sister heard me sing and said, it hasn't been bad. Then I decided to record some things of Vacuum. I was curious about hearing me sing, 'cause I dislike most of my own records. And I really liked the result.
I have lots of very different hobbies, like motor-racing, go-karts, playing guitar, singing, taking pictures, writing, teaching, studying the stars, hanging on my telescope, just relaxing and being surrounded by insence sticks, playing with children, enjoying my life and bringing warmth, smiles and peace to all the people around.
I am a singer in a band. My band is called "The Ions". It's a great thing, I enjoy every moment doing music with these guys. If we play, it means, we've got anything to say. It means, we want to bring some joy and peace into this cruel world, we're living in."
Hungry Cat
presents:
Back to VacuumV!sion